INTERSPORT Saint Lary 1700 - Le pla d'Adet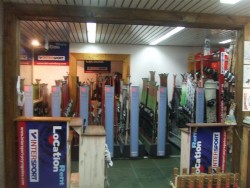 Intersport welcomes you with
300 sq. m of shop floor dedicated to ski equipment rental
. Situated at the foot of the slopes, you'll benefit from our fast service with our
3 rental area
s and from quality advice. We have a team of 15 people including
3 welcome hostesses and a queue management system
to ensure you are correctly equipped from head to foot with proper advice and tips.
Handy tip: make the most of
our free guaranteed and customized rental equipment deposit service
.
INTERSPORT has the largest storage capacity in the ST LARY ski resort with more than 1100 spaces. It also has specialists dedicated exclusively to this service and heated and managed facilities available on a daily basis

As a partner of the French ski school (ESF), with Intersport Pla d'Adet you will be amazed by the progress your children make; they'll be the first to appreciate equipment that's new and adapted to their needs.

So get a head start for yourself, your children and all the family by renting from Intersport Saint Lary 1700 Le Pla d'Adet.

If you book your equipment with Intersport Pla d'Adet 1700, get up to 40% off and benefit from a VIP booking service.